Craftaholics Anonymous
® is here today with some adorable
Christmas crafty and DIY ideas
to make your next holiday bash special.
The cool thing is that these ideas could easily be adapted to fit Thanksgiving! Please welcome Linda to the blog today. She's the first guest blogger I am welcoming to
Serenity Now
as part of my maternity leave. I'll be back some next week, but I'm using today to get some things on my pre-baby to-do list accomplished.
**************************
Small details make such a difference at a party. But time is so precious at this time of year! Here are some quick, easy ideas to help give your holiday gathering that special touch.


Its time to start gearing up for holiday parties!
Before we get started, let me introduce myself real quick! My name is Linda and I blog at Craftaholics Anonymous®. I am a bit of a craft addict and share all kinds of craft tutorials!
DIY Tiered Serving Tray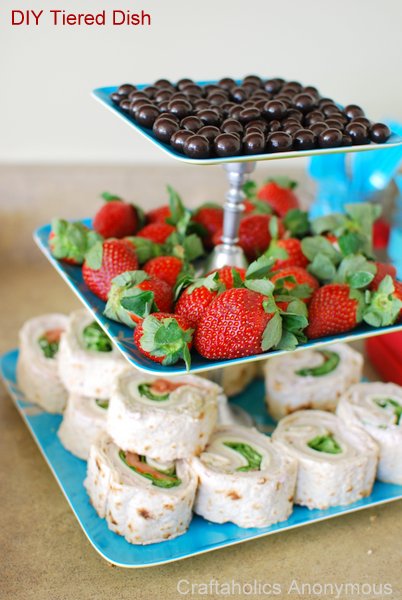 Tiered trays are a true life saver when putting out a holiday party spread! And this beauty whips up in minutes. I know counter space can fill up quickly at a party with all the trays, decor, etc, so being able to use vertical space is very helpful. I don't know about you, but space can be an issue at my house with all those dishes, trays, and decorations.
This tiered tray makes an excellent conversation piece. Yep, go ahead and brag a little to your guests that you got your craft on and
made
that serving tray! They will be impressed.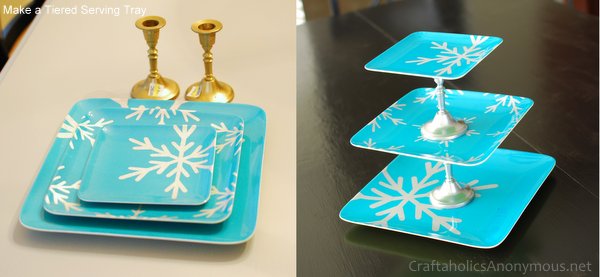 How to Make:
All you need is three plates in different sizes (I found mine at Target), two candle sticks (I snagged mine at the thrift store for pennies), chrome spray paint, and E6000 (or super glue.)
Spray paint the candle sticks.
Once the paint dries, put a small line of E6000 glue around the top and bottom of one candle stick and center it between two plates.
Repeat with the second candle stick.
Allow 3-4 hours to dry.
After each use, hand wash only with warm, soapy water.
Christmas Kisses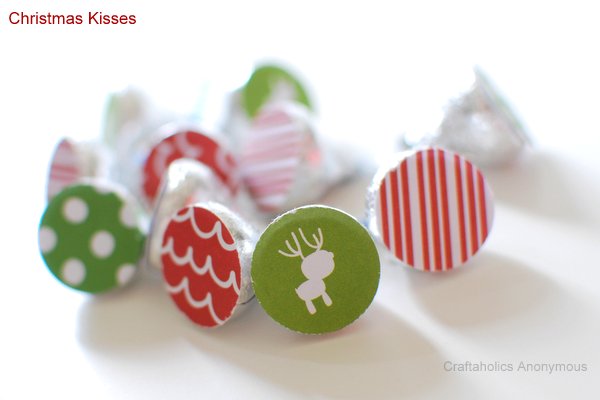 Small touches make such a difference! Jazz up your chocolate kisses by gluing circles of festive scrapbooking paper to the bottoms. This is a perfect way to use up all those scraps! So easy and so cute!
Put these festive kisses in a small bowl at the entrance of your party so guests can grab them on their way in, then again for the ride home.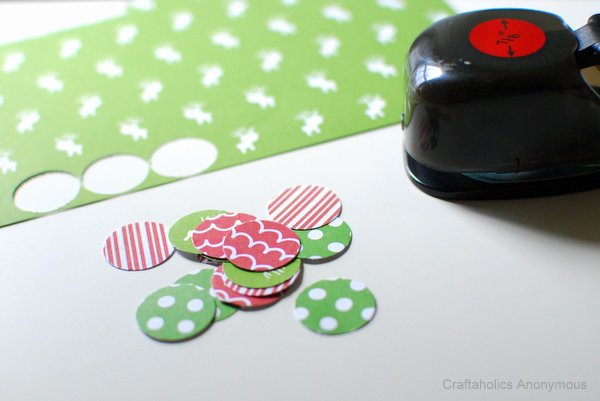 How to Make:
Use a 7/8" circle hole punch to cut circles out of scrapbook paper.
Use a glue stick, hot glue gun, or circle glue dot to adhere the paper circles to the bottom of each chocolate kiss.
It takes only seconds to add a little impact to your small chocolate treat!
Mason Jar Holders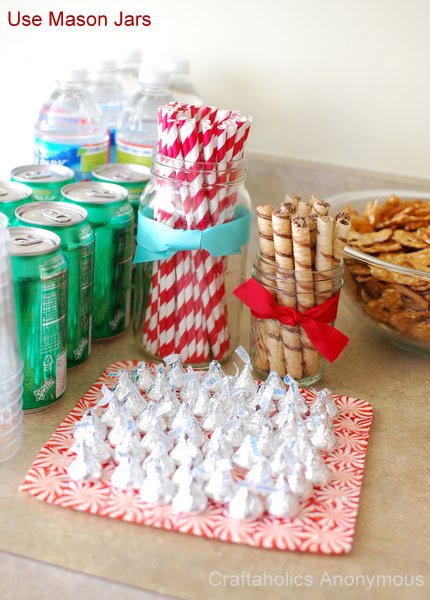 Need small containers to hold party supplies? Use mason jars or old glass food jars! Mason jars are so popular right now and so stinkin' cute!
You can find inexpensive options at thrift stores, or at most grocery stories in the canning section. Add a little ribbon to the jars, trim, or washi tape, and they are fantastic for holding paper straws, utensils, treats, and other holiday party favors.
Use different size jars for added depth to your party spread. I hope this inspires you to add some easy DIY elements to your holiday party this year! Small, easy, handmade touches make such a difference in any celebration.
It was so fun to be here today! Amanda is awesome!
Happy crafting!
***********************
Thanks, Linda! I'm always impressed by the whimsical, colorful ideas you share with readers. You are a crafty inspiration to me.
What's your favorite way to personalize your decor, place settings, or serving pieces for a holiday get-together? Do you have any fun ideas for Thanksgiving? It's just around the corner!
*Don't forget to enter this week's Swiffer Bissell SteamBoost Giveaway!*
If you enjoyed this post or found it helpful, I hope you'll click your "Pin It" button to add this post to Pinterest, or a +1 for Google+. And I always appreciate kind comments.